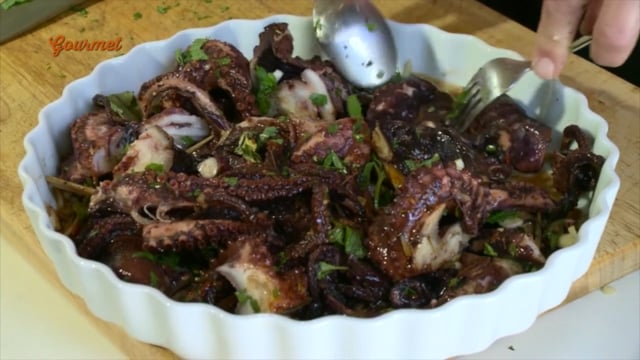 Watch Michael Diacono barbecue octopus with Asian spices.
Barbecued Asian marinated octopus
Ingredients
1kg octopus
1 clove garlic, chopped
1 tsp chilli
5 kaffir lime leaves
1 inch piece ginger, peeled and chopped
½ lime, juice only
3 stalks lemongrass
2 tbsp soy sauce
1 tbsp sesame oil
Handful fresh coriander, chopped
Handful fresh mint, chopped
Method
Boil the octopus for approx. 1 hour until tender.
Allow to cool and cut into large pieces. Take care not to cut too small as they will fall through the grill of the barbecue.
Add the garlic, chilli, lime leaves, ginger and lime juice.
Slice the lemongrass stalks in half, lengthways, and bruise with the back of a knife.
Add the soy and sesame oil.
Add the fresh herbs and mix well.
Cover with cling film and allow to marinate in the fridge at least overnight.
Barbecue the octopus for a few minutes on each side until warmed through.
Serve warm.
This recipe first appeared on Gourmet Today TV, aired on TVM on 17 July, 2015.