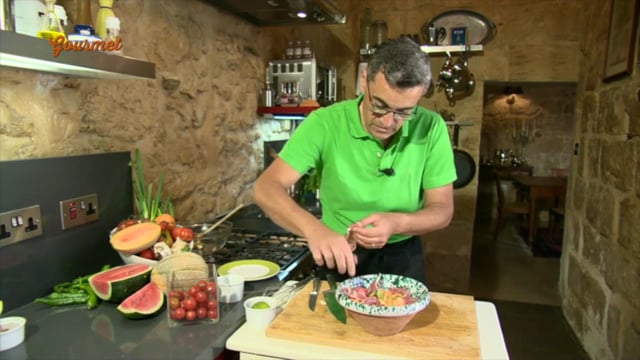 Watch Michael Diacono make a summer salad with melon, lime, mint and prosciutto crudo.
Melon, lime and mint salad with prosciutto crudo
Ingredients
½ melon, diced
Handful plum tomatoes
Handful cherry tomatoes, halved
1 spring onion, sliced
1 chilli (optional), finely chopped
5 slice prosciutto crudo
Fresh mint leaves
Dressing
1 lime, juice only
1 tbsp honey
Salt and pepper
Method
To make the dressing, whisk the lime juice, honey, olive oil and season with salt and pepper.
Add the diced melon and mix with the dressing.
Add the tomatoes, spring onion and chilli, if using.
Mix well and transfer to a serving dish.
Place the prosciutto crudo over the top of the salad and garnish with fresh mint leaves.
This recipe first appeared on Gourmet Today TV, aired on TVM on 3 July, 2015.