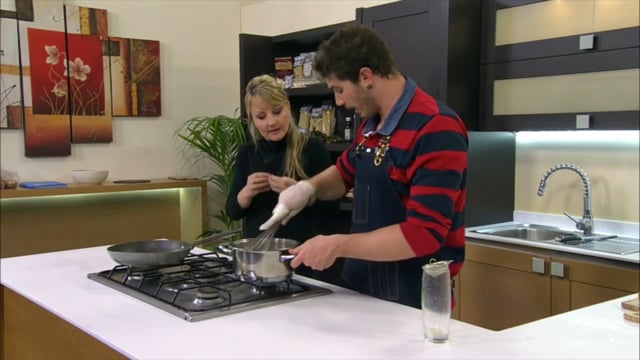 Watch Sean Gravina make a homemade lemon curd
Lemon curd
Ingredients
· 1 leaf gelatin
· 2 eggs
· 100g granulated sugar
· 100ml fresh lemon juice
· 140g butter
· 1 lemon, zest only
Method
1. Place the gelatine in a bowl of ice water to soften.
2. Meanwhile, whisk the eggs and sugar together in a medium saucepan.
3. Slowly whisk in the lemon juice.
4. Place the pan over a medium heat and whisk slowly, until the mixture begins to simmer.
5. Simmer for 3 to 5 mins, whisking constantly, until thickened.
6. Remove the pan from the heat and whisk gently for 1 – 2 mins to release steam and cool the curd slightly.
7. Remove the gelatine from the water, squeezing out excess water, and whisk it into the hot curd.
8. Strain the curd through a fine mesh strainer set over a blender and blend on low for a few seconds, then add the butter 2 or 3 pieces at a time, blending until incorporated.
9. Add the zest and blend to incorporate.
10. Let the curd cool to room temperature and then place the curd in the fridge to and place cling film on top.
This recipe first appeared on Gourmet Today TV, aired on TVM on 20 March, 2015.