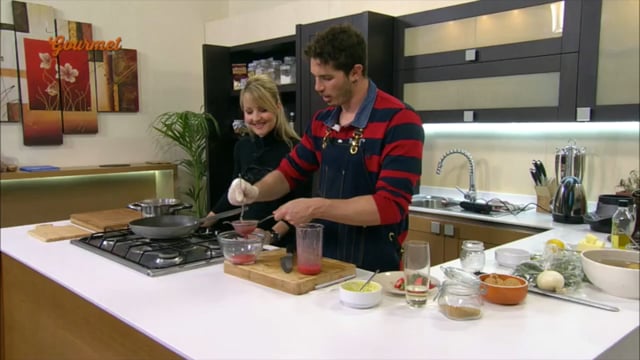 Watch Sean Gravina make a delicious dessert with ice cream, lemon curd and raspberry jelly
Lemon curd and ice-cream with raspberry jelly
Ingredients
· 500g raspberries, plus extra to serve (you can also use strawberries)
· 450ml sparkling wine
· ½ cup caster sugar
· Squeeze lemon juice
· 8 gelatine leaves
· 500ml vanilla ice-cream
· 5 tbsp lemon curd, plus extra to drizzle
· Digestive biscuits
· Milk chocolate shavings
Method
1. Put the raspberries into a blender or food processor with the sparkling wine and puree until smooth.
2. Add the lemon juice and sugar and blend again.
3. Pass this mixture through a fine sieve into a jug. Soak the gelatine leaves in a bowl of cold water until they go soft – about 4 – 5 mins.
4. Wring out the excess water from the gelatine.
5. Place in a small sauce pan and heat very gently, stirring a couple of time, until it has melted. This shouldn't take more than 30 secs.
6. Remove from the heat immediately, pour the melted gelatine into the raspberry liquid and mix thoroughly.
7. Divide the remaining raspberries between six glasses or serving bowl.
8. Pour the jelly mixture over the top, cover and put them in the fridge to set (at least 4 hours or overnight).
9. Cut the jelly into small squares and place at the bottom of the serving dish.
10. Top with a scoop of vanilla ice cream and lemon curd.
11. Add some of the reserved strawberry or raspberries.
12. Crumble some biscuits over the top and add some chocolate shavings.
This recipe first appeared on Gourmet Today TV, aired on TVM on 20 March, 2015.