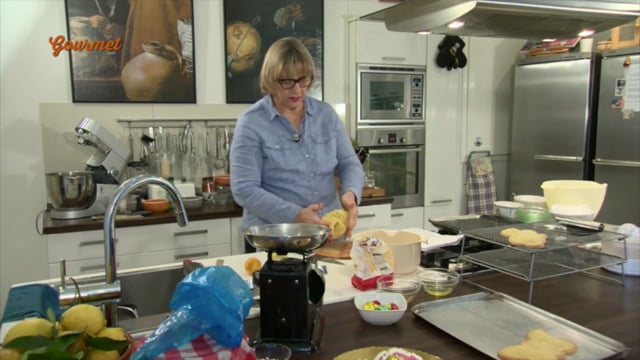 Watch Pippa Mattei make homemade figolli
We find the best way to make the Figolli is in stages. First make the biscuit dough, roll it out and cut the shapes. Prepare the almond filling and assemble the biscuits. Then place them on the baking trays and bake them. Finally allow to cool on racks. Then decorate, first by covering in glacé icing or chocolate, and finally with royal icing.
Figolli
Ingredients
Makes 3 – 4 figolli
Biscuit
350g plain flour
175g sugar
175g margarine or butter
1 lemon, zest only
1 orange, zest only
2 egg yolks
A little cold water if necessary
Filling
175g blanched almonds ground in a processor
80g sugar
Lemon juice
1 egg white
1 tsp orange blossom water (Ilma Żahar)
Glacé Icing
400g icing sugar, sifted
50ml water
Juice of one lemon
Royal Icing
1 egg white
225g icing sugar, sifted
1 tsp lemon juice
½ tsp glycerine
To decorate
Halved Easter eggs
Dragee balls
Method
Mix flour and sugar in a bowl, add the margarine or butter cut up into pieces and mix altogether until the mixture resembles breadcrumbs.
Add the grated rinds and then the egg yolks.
Mix well until it becomes a fairly soft but firm dough, only adding water if necessary. Set aside.
To make the filling, mix the ground almonds with the sugar, lemon juice, egg white and blossom water.
Mix very well by hand or in a processor. Set aside.
Roll out some of your dough onto a floured surface, to 0.5cm thick.
Carefully place your chosen metal shape on the rolled out dough and cut two identical shapes.
Take two or three tablespoons of the almond filling and spread this onto the inner part of one of the shapes, flattening it slightly.
Now carefully brush the circumference of this shape with beaten egg, milk or water, and put the other identical shape over this, pressing down the edges you have moistened.
When this is ready, carefully lift the double shape with a gateau or pie lifter if you have one, or an angled spatula, and place on a non-stick baking tray.
Pre-heat your oven to180˚C and bake the Figolli for approximately 20 mins until they are golden brown.
Remove from oven and allow them to cool before placing them on cooling racks to get completely cold.
To make the glace icing, mix all the ingredients together.
When smooth and thick divide into four bowls. Choose four colours and put drops of different colours in different bowls, to create pastel shades. Do this little by little, as once mixed the colour spreads and you do not want your colours too bright.
Using a pastry brush or a spatula, spread one of the glacé icings the cooled Figolla. Cover each Figolla with a different coloured icing and when all done, place your Easter egg halves exactly in the middle of the shape, pressing down to secure. Leave to cool and set.
If you prefer to cover your Figolli with chocolate, simply melt the chocolate covering over simmering water, and spread over Figolli. You need 100g chocolate per Figolla
When the glacé icing or chocolate has dried you can carefully place your Figolli onto the cake boards.
To make the royal icing, whisk the egg white until slightly frothy.
Beat in about a quarter of the icing sugar with a wooden spoon, then, using a whisk, add the sugar gradually, beating well after each addition, until about three quarters has been added.
Beat in the lemon juice and continue beating for about 10 mins until the icing is smooth, glossy and white.
Beat in the remaining sugar and the glycerine to the required consistency (when a wooden spoon placed upright in the icing falls slowly to one side, do not over beat).
Cover the bowl with a damp cloth and leave sometime to allow bubbles to rise to the surface (a few hours or overnight).
With your piping equipment, fit the large star nozzle in the piping bag, fill with your royal icing and with a steady hand, pipe stars all around the outer circumference of your Figolli in such a way that this icing not only decorates the edges, but attaches the Figolli to the boards they are placed on.
You can decorate the Figolli with more piped icing to mark out eyes, ears, flowers etc. Immediately add all the coloured balls onto this icing anyway you fancy.
Leave the Figolli overnight to allow the piped icing to harden.
Carefully cover the Figolli with transparent paper or slide into clear plastic food bags, and tie with thin ribbon.
This and more of Pippa Mattei's recipes are available in her book Pippa's Festa.
This recipe first appeared on Gourmet Today TV, aired on TVM on 20 March, 2015.
Sponsored by Budweiser
The "Great American Lager" is a medium-bodied, flavorful, pure beer with blended layers of premium American and European hop aromas and a crisp dry finish. Budweiser is brewed with time-honoured methods including "kraeusening" for natural carbonation and Beechwood aging, which results in unparalleled balance and character. Alc. 5% Vol.