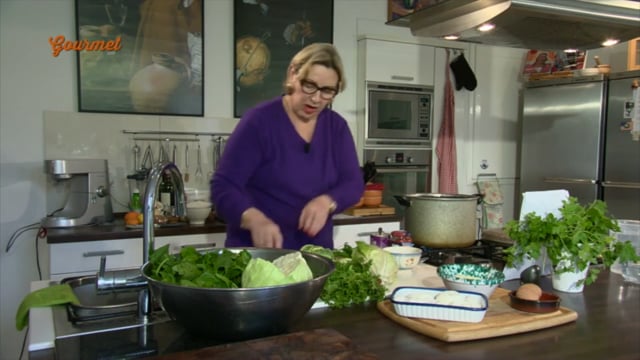 Watch Pippa Mattei make a soppa tap-armla or widow's soup
Soppa tal-armla (Widow's soup)
Ingredients
Serves 6-8
2 tbsp butter
4 tbsp olive oil
2 medium onions, peeled
2 potatoes, peeled
1kg fresh spinach, cleaned
¼ medium cabbage
½ cauliflower
1 small lettuce
1 small endive (indivia)
1 kohlrabi (gidra), peeled
1 handful fresh or frozen peas
1 handful fresh parsley, chopped
2 tbsp tomato puree (kunserva tat-tadam)
2 vegetable stock cubes
1 stick young celery
Salt and pepper
To serve
Sprinkling of Parmesan cheese
Fresh gbejniet or soft cheese like ricotta
1 egg per person
Method
Clean and prepare all the vegetables, and chop them roughly.
Heat the butter and oil in a large pot, then add all the chopped vegetables, and cook stirring occasionally, until all the vegetables are soft (about 5 mins).
Add salt and pepper and the tomato puree, stock cubes and enough water to cover.
Bring to the boil, then lower heat, and simmer gently with lid on pan for about 45 mins until all the vegetables are well cooked.
Before serving this soup, poach an egg per person in the soup, together with the gbejniet or ricotta.
Carefully spoon these into individual soup plates, then spoon the soup over these, adding a sprinkling of Parmesan cheese.
More of Pippa Mattei's recipes are available in her books Pippa's Festa and 25 Years in a Maltese Kitchen.
This recipe first appeared on Gourmet Today TV, aired on TVM on 20 February, 2015.