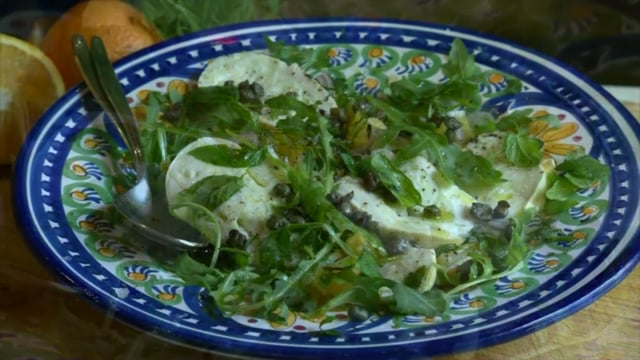 Watch Michael Diacono make an orange and mozzarella salad with deep fried capers
Orange and bufala salad
Ingredients
2 oranges
2 balls mozzarella di bufala
1 shallot, peeled and finely sliced
Extra virgin olive oil
Sea salt and cracked pepper
Capers
Oil for frying
Fresh herbs (mint or basil or parsley or a combination)
Method
Peel and cut the oranges into segments and place onto a serving plate.
Cut the cheese into large slices and arrange over the orange.
Dress with extra virgin olive oil and season with sea salt and cracked pepper.
Scatter the sliced shallot over the salad.
Heat a little vegetable oil and deep-fry the capers for a minute or two till puffed and crisp.
Remove and dry on kitchen roll.
Add chopped herbs and decorate with the fried capers.
This recipe first appeared on Gourmet Today TV, aired on TVM on 5 December, 2014.