[WATCH] Bernard Grech accuses government of abandoning national interest on Steward deal
Opposition leader Bernard Grech accuses government of abandoning national interest in address to protestors outside parliament after a stormy parliamentary session in which the Steward hospitals contract was debated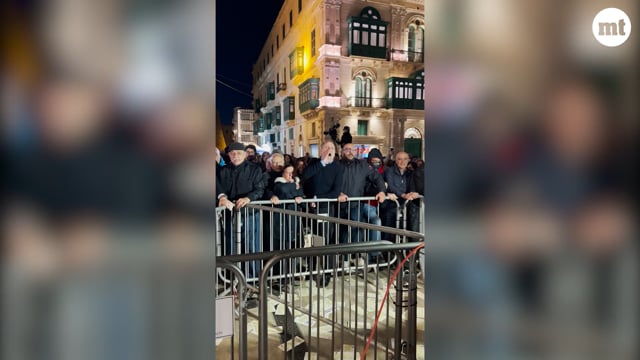 Opposition leader Bernard Grech accused Robert Abela and his government of abandoning the national interest and defend Steward Healthcare despite a court ruling striking down the hospitals deal.
Grech chose to deliver his speech in front of a sizeable crowd of protestors outside Parliament after the Opposition walked out of the House before the vote was taken. He said parliament had been hijacked by "the same individuals who are supporting criminals and fraudulent persons".
The Opposition had objected to the Speaker's decision to allow the government to present an amendment to the Opposition motion in the time not allotted to it.
"Once again, parliament has been seized," Grech told the crowd. "Instead of defending those who stood up to fraudsters and criminals, Speaker Anglu Farrugia opted to support those who collaborate with fraudsters and criminals."
Grech said the government forsake the nation and defended both Vitals Global Healthcare and Steward for more than an hour. "Today, we heard the Prime Minister, who clearly has his back against the wall, protecting Vitals and Steward and becoming their Prime Minister instead of the people's."
Grech accused Robert Abela of defending his interests, the interests of the Labour government, and the interests of "the fraudsters', just like he did for the last 10 years".
"The Prime Minister is compromised. He is a Prime Minister who lacks the power to fight for the Maltese and Gozitans and contents himself with mediocrity," Grech said.
Protestors booed when government MPs exited parliament, chanting "thieves" and "mafia".
Grech urged people to continue protesting against the government's intransigence to defend the national interest, adding the Opposition will stand with the people.
Shame Prime Minister used Daphne
Grech said it was shameful that the Prime Minister chose to mention Daphne Caruana Galizia to try and hit back at the Opposition when she was murdered under a Labour administration. Today marks 65 months since Caruana Galizia's murder.
Grech asked where the Prime Minister was when the Auditor General found on different occasions that the hospitals deal was corrupt. He asked where the Prime Minister was when Caruana Galizia was killed so she wouldn't reveal more information on the government's corrupt dealings. He asked where Abela was when Adrian Delia presented court with facts proving the hospitals deal was corrupt and fraudulent.
The PN's protest is its third against the Vitals-Steward concession since it was overturned by a court following a case brought by PN MP and former leader Adrian Delia.