[WATCH] V18 boss: Facebook spats are 'healthy' for democracy
A few days after Jason Micallef's most recent online squabble he said that he has put disagreements with artists behind him and is focusing on the success being achieved by Malta's capital of culture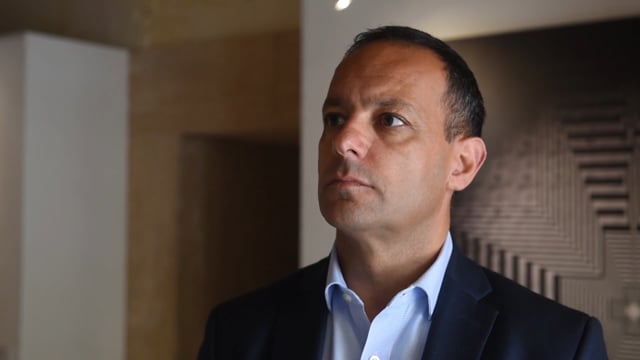 Jason Micallef, the chairman of the Valletta 2018 Foundation, has said that online spats between several local artists and himself were "healthy" and reflected a free and democratic country.
Micallef has been on the receiving end of a considerable amount of criticism in 2018, mainly driven by his comments about assassinated journalist Daphne Caruana Galizia, and the civil society movements which have been set up in the wake of her brutal murder.
In April, a group of international writers forming part of PEN International, and which included some of the most prominent writers in the world, condemned Micallef for repeatedly mocking Caruana Galizia on Facebook.
This was followed by over 100 local artists signing a letter addressed to Prime Minister Joseph Muscat in which they called for Micallef to be removed from his post over concerns that Valletta 2018's legacy was being "seriously jeopardised" by his actions.
"We would like to recall the number of instances that Mr. Micallef used his role as Chairman of the European Capital of Culture to publicly ridicule and attack artists who criticised and satirised those in power," read the letter. "His role as Chairman should be to safeguard this right, not to threaten it."
Replying to questions by MaltaToday on his relationship with Malta's artistic community, Micallef said that tensions had been started needlessly, while insisting that he had now put it all behind him.
He said he was focused on the "success" achieved by V18, both locally and abroad, insisting that there was agreement throughout the country that something very special was taking place in Valletta, which he said had undergone an economic, cultural and social regeneration.
When it was pointed It was pointed out that Micallef had, only a few days ago, engaged in an unprovoked Facebook tirade against Brikkuni frontman Mario Vella, Micallef argued that he had a right to express himself, irrespective of the position he held.
"If we speak about freedom of expression and we agree that I can disagree with what you have to say but you have a right to say it, so is it right that we have to include parameters where I can and you can't," Micallef said.
"I think these spats on social media are very healthy, because they are a confirmation of an open society that has no problem expressing itself in every way and using every medium, albeit in an occasionally aggressive manner, but I think it is a society that reflects a democratic society that works in a perfect democracy like we have in our country."
Back to back concerts in Gozo supported by V18
Micallef was speaking after a press conference launching two concerts that will be held in Gozo with the support of the Valletta 2018 foundation.
Rock Astra and Leone Goes Pop are two concerts that will be held this weekend in Gozo's capital Rabat. The two productions, which have become mainstays of Gozo's cultural scene are organised by Rabat's La Stella Band and Leone Philharmonic Society.
Leone Goes Pop will be take place on the Saturday and will see the band play in the 11th consecutive annual pop concert.
Rock Astra will be held on Friday and will see the La Stella Band perform renditions of popular rock songs.
Victoria mayor Samuel Azzopardi said he was happy that both bands would be organising their concerts on the same weekend, to coincide with 'Jum il-Belt Victoria'. He said it was good to see that two rival bands had come together to cooperate for the good of the city and the island.
Gozo Minster Justyne Caruana explained how her ministry wanted Gozo to make the most from both concerts, and was therefore happy that both events were taking place on the same weekend.
Gozo, she said, would be offering people a holistic experience over the weekend, with rock, pop and electronic music performances taking place on the island.